40 Things to Make Your Apartment Feel Like Home
October 4, 2022
Moving into your first college apartment is such an exciting time. Especially after living in a dorm, the apartment gives you so much more space and the convenience of a kitchen, and more. If you are moving into a new apartment, there are many things you will need that you might not typically think of. Also, if you are living with a group of people, it can be a good idea to agree on who is bringing which items so that there are no duplicates and to split up the costs.
In addition to this checklist of essentials, you will probably be required to get renter's insurance and Lemonade is one that is easy to use.
Note: We are a reader-supported site and receive compensation from purchases made through some of the links in this post.  
First apartment essentials
Kitchen essentials
1. Coffee maker 
If you are a coffee lover, you want to buy a coffee maker. In my freshman year, I got all of my coffee from the dining hall, but after freshman year, I used the same coffee maker for the next three years of college. You won't have to go to the coffee shop if you have a coffee craving, saving you time and money. Keurig makes one that is very narrow and is available in six great colors. Don't forget to bring some cute mugs along, too. 
2. Dishes 
You will need to buy dishes for your first college apartment. I recommend unbreakable ones if you live with a group of people and don't want to worry about anything too fragile.  This set of 12 plates and bowls isis microwave and dishwasher safe.
BTW, you might want to even buy a few extra bowls as you will eat and heat up more things in a bowl than you can imagine. 
3. Pots and pans
Pots and pans are necessary for preparing meals now that you will no longer be eating at the dining hall. How will you make mac and cheese, pasta or your favorite omelet without pots and pans? 
4. Flatware
Flatware is another kitchen essential for a college apartment. You will need flatware for almost every meal and can reuse it for years to come. If you are getting a small set for 4 people, for instance, pick up extra spoons as I run out of clean spoons more than other utensils.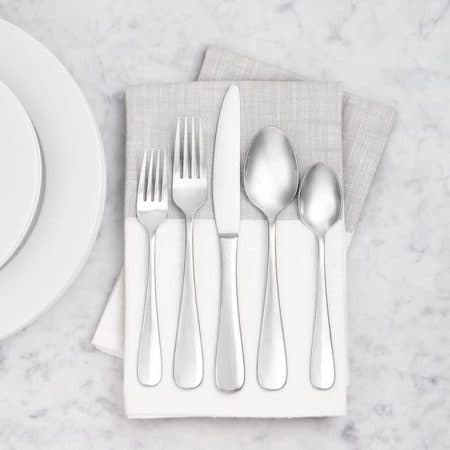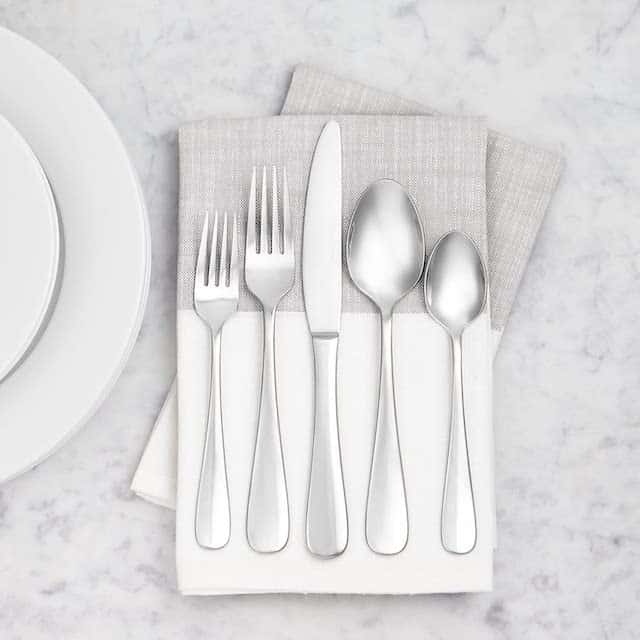 5. Brita Water Pitcher
A Brita water filter is essential to avoid buying bottled water. When I first moved into my apartment, I tried using jugs of water, but a Brita is much more convenient and better for the environment.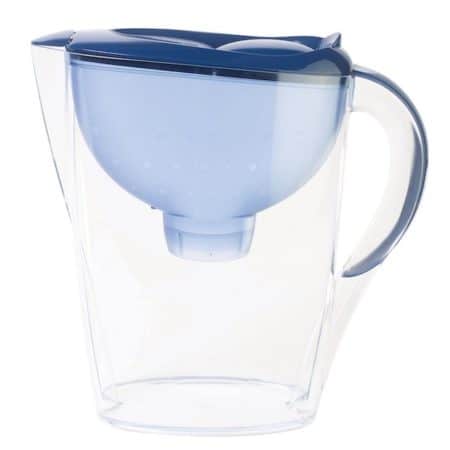 6. Toaster Oven
It is sometimes more convenient to use a toaster oven than a larger oven if just heating something small.
7. Gadgets and basic supplies
Outfitting your kitchen with essential gadgets will make a big difference when cooking. Oven mitts, dish towels, can opener, a spatula, corkscrew, aluminum foil, plastic wrap, wax paper, spices (especially salt and pepper).
8. Cleaning supplies
Cleaning supplies are always handy to have! Especially if you are living with other people, having cleaning supplies in the kitchen is so helpful so people can clean up after themselves. You want to include paper towels, garbage bags, a mop, a broom, an all-purpose cleaner, Lysol wipes, sponges, hand soap, and dish soap.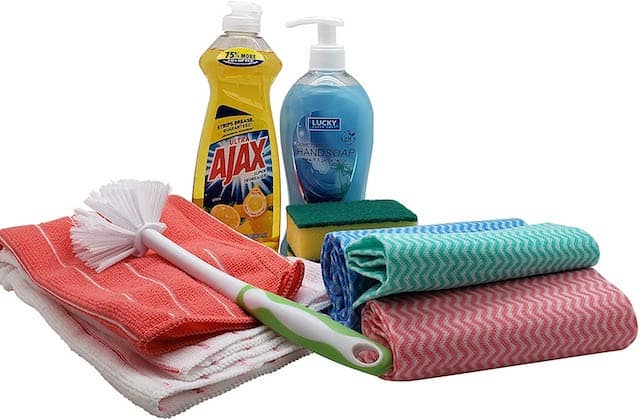 Living Room essentials 
9. Television
Having a TV makes living in an apartment more cohesive. My housemates and I tried to do a movie night at least once a month where everyone was there and with lots of snacks. This TLC TV gets excellent reviews, especially for the price.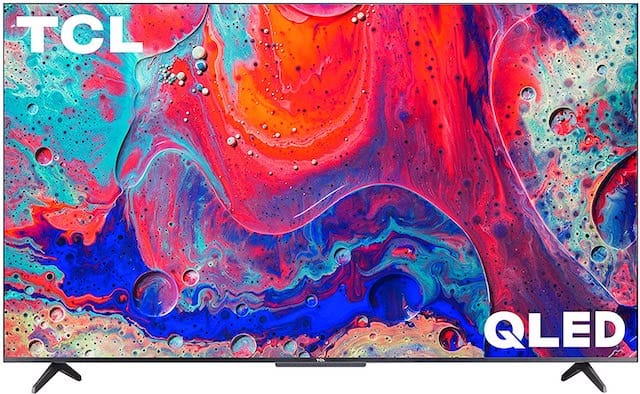 10. Couch 
For your apartment, you don't need a super expensive couch, just something that is comfortable and seats multiple people. You can also find cheap sofas if your college has a Facebook Free and For Sale page.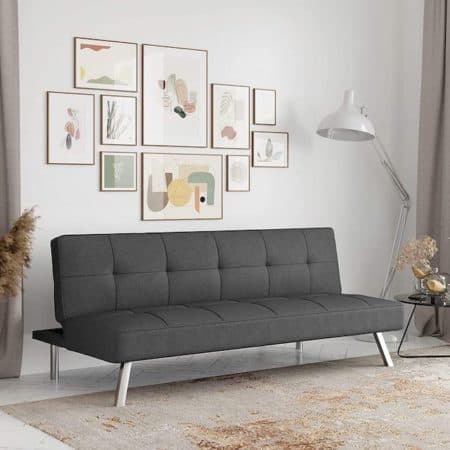 11. Coffee table
A coffee table is a convenient place to serve snacks while watching TV and brings the living room together. 
12. Rug
Area rugs are an easy way to add color to the living room and can often brighten up the room. Most apartments are painted in neutral colors, so find a rug in colors you like. Washable ones are efficient.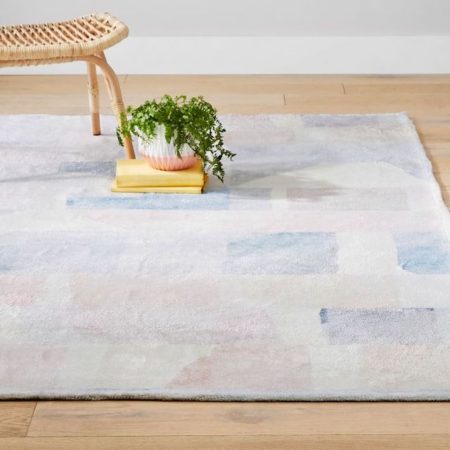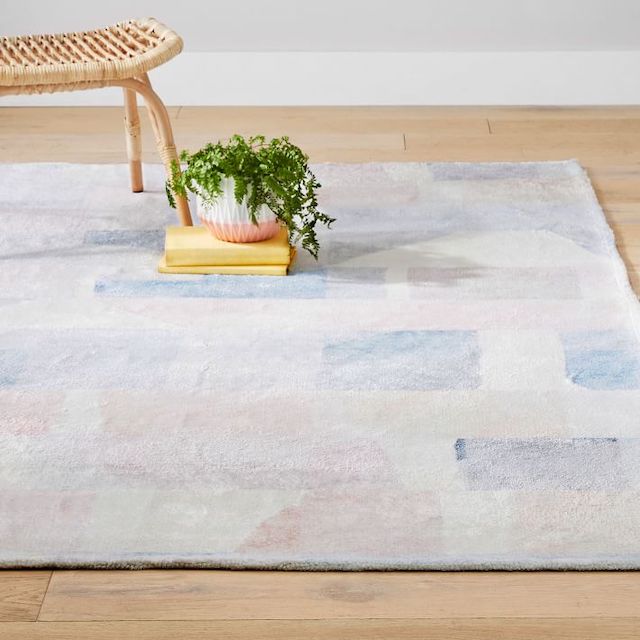 13. Floor lamp
Having extra lighting is very useful for the living room. If there is not a window nearby, having a floor lamp is a great alternative to brighten up the room. 
14. Vacuum 
A vacuum cleaner can be handy for your apartment for cleaning up dirt, food crumbs, and dust. Especially if you live with other people, apartments tend to get dirty much faster than you would expect, so having a vacuum cleaner is so important. This one gets great reviews.
Bedroom Must-haves 
15. Mattress and bed frame
A bed frame and mattress are essential for your apartment! The good news is that you will probably reuse these for the next three years. Zinus has well-priced and top-rated mattresses shipped in a box right to the apartment. Their bed frames work well, too.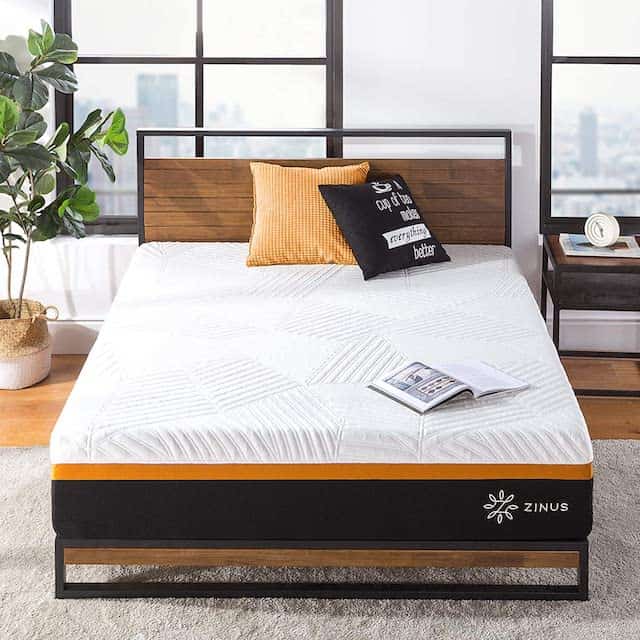 16. Bedding
Bedding is a great way to brighten up your bedroom. You can choose your favorite colors or a great pattern and add accent pillows. If you have room in your apartment for a queen-size bed, the linens you get for your new home can last you for many years — unlike the Twin XL you might have bought for the freshman dorm. 
This bedding is 100% cotton, available in several colors, and is washable.
17. Blanket
Depending on your climate, you might need to have an extra blanket for your bed. I love these 100% cotton waffle weave blankets from Vera Wang.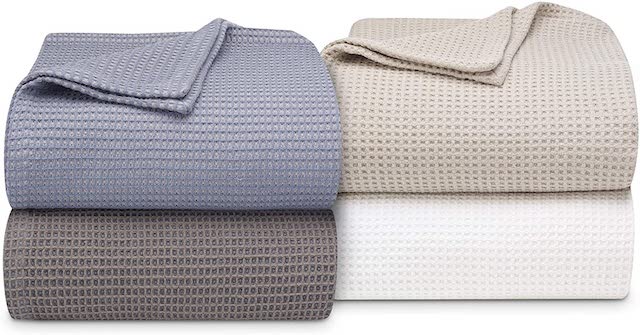 18. Desk
You want to have a desk in your bedroom for studying. I also used my desk for eating meals if I didn't feel like eating in the kitchen. 
19. Desk lamp
Extra lighting is often needed in college apartment bedrooms, and a task lamp helps read textbooks while studying at your desk. Also, a desk lamp will keep your desk lit during late-night study sessions. Don't forget extra light bulbs. 
20. Desk chair
Having a comfortable desk chair is so important. Especially if you plan to do most of your studying at a desk, you want to feel snug. 
21. Drying Rack
A drying rack is an excellent idea if you don't like putting delicate clothes in the dryer. I used my drying rack every time I did laundry, and it was particularly significant for leggings and sweaters that might get messed up in the dryer. 
22. Nightstand 
A nightstand is convenient for keeping things next to your bed within arm's reach. I usually kept a water bottle, lotion, chapstick, and tissues on my nightstand.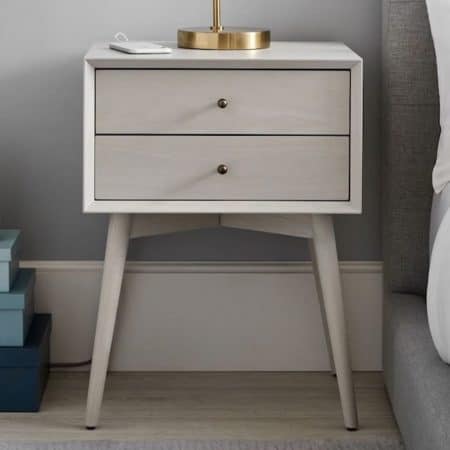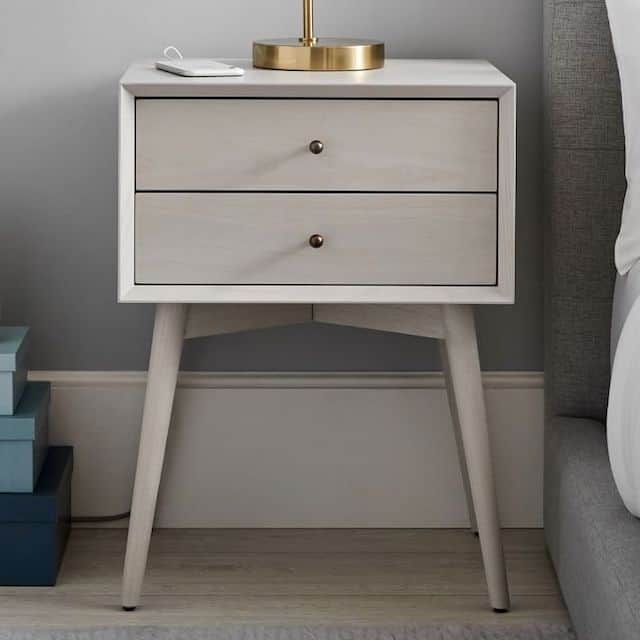 23. Mini trash can
A mini trash can in a bedroom is nice because it allows you to throw out more minor things without leaving your room. 
24. Full-length mirror
You want to have a full-length mirror in your bedroom to see your entire outfit. 
25. Hangers
You will need hangers for your closet! I ended up hanging up most of my clothes in my apartment because there was not enough space for a full dresser.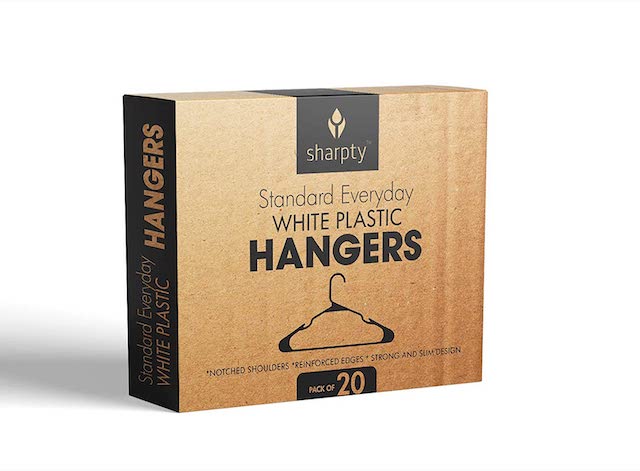 26. Storage ottoman 
Storage ottomans are super convenient for storing smaller items. This one can also be used as a nice stool. 
27. Under-bed storage
Having under-bed storage is so useful for keeping things organized in a college apartment. Under my bed, I stored many things that were not used on a daily basis, such as a hairdryer, medicines, or extra sheets and towels.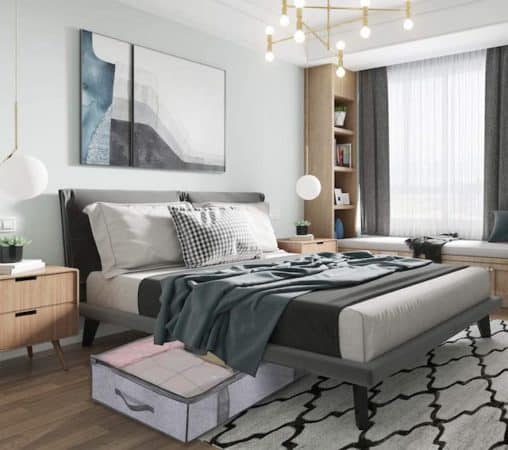 28. Tapestries
Tapestries are an easy way to decorate a wall in your bedroom. Pottery Barn has some of the cutest tapestries with some super unique designs.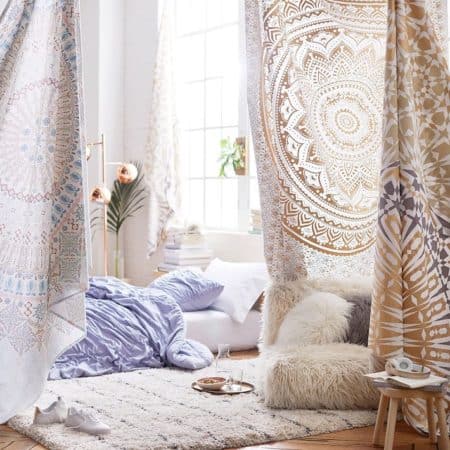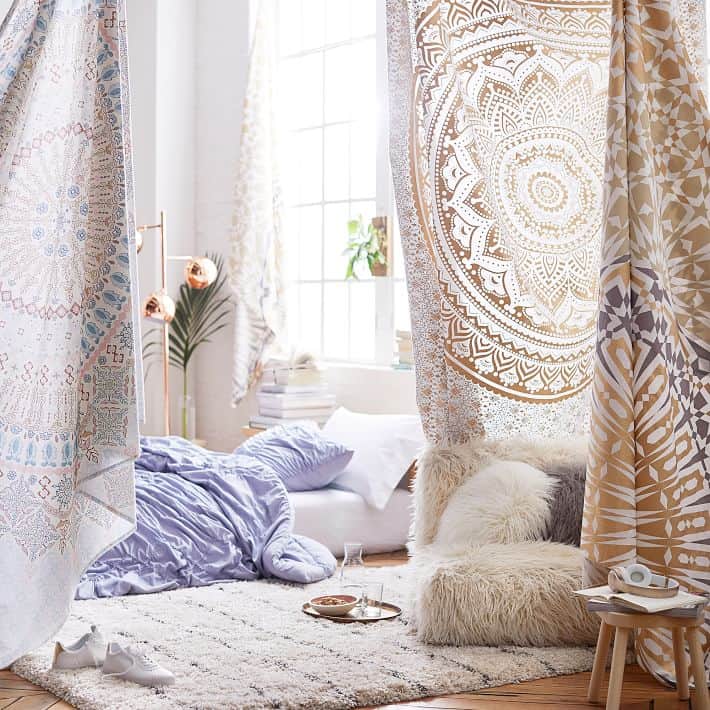 29. String lights
Another way to add personality to your room is to have decorative lights. String lights are great for movie nights or late-night studying. 
30. Power strips and extension cords 
Many college apartments don't have many outlets, which is why extension cords or power strips are so crucial. A power strip with space for both plugs and USB ports is convenient to charge your phone and computer while you are in bed or at your desk.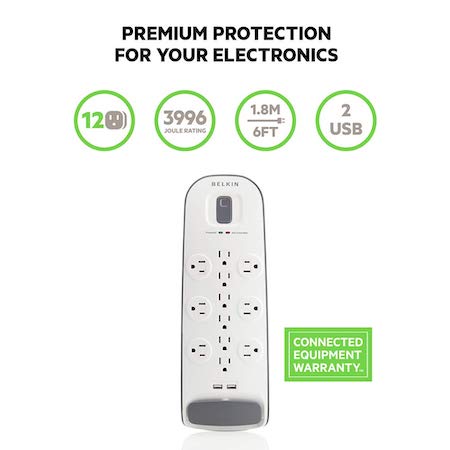 Bathroom Essentials
31. Over-the-door hooks
There might be wall hooks in your bathroom, but there are never enough, especially if you share with a roommate. Over-the-door curves are perfect for hanging up towels or robes after showering.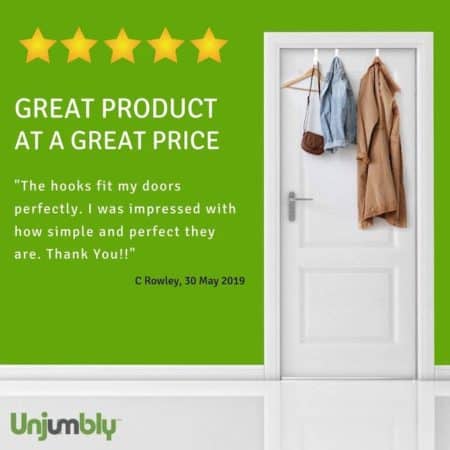 32. Toiletries
You might have enough room for your basic toiletries in a cabinet or under the sink if you have your bathroom. Having enough counter space for your toothbrush holder and toothpaste is optimal, but if not, you may have to use a shower caddy or toiletries bag to store things in your bedroom instead of the bathroom.   
33. Shower curtain
Make sure to buy shower curtains for your bathroom. This is something I forgot to buy before moving in and had to buy after arriving at the apartment.  
34. Bathroom wastebasket 
Having a small trash can in your bathroom is necessary. The simplehuman trashcans are my favorite.
35. Towels
Having several bath towels and hand towels is handy because you can alternate without doing laundry. You'll need to have a bath mat in the bathroom, too.
36. Toilet paper holder
Many older apartments do not have a toilet paper dispenser attached to the wall. If this is the case, many toilet paper holders are available on Amazon to purchase. 
37. Laundry hamper
It's so nice to have room in the bathroom for a laundry bag or hamper for dirty clothes. Otherwise, you will have to find a spot in your bedroom. 
38. Supplies
You will want to have a toilet bowl cleaner, toilet brush, and a plunger, too, just in case. It's also good to have a first aid kit with disinfectant, bandaids, and other basic first aid supplies.  
Other Essentials
39. Toolkit
Having a toolkit with things like a hammer, screwdriver, and nails for hanging pictures will come in handy. Make sure you have a flashlight and extra batteries, too. 
40. Flashlight and extra batteries
While you can use your phone as a flashlight, you will want to have a real flashlight with extra batteries in case of an actual emergency.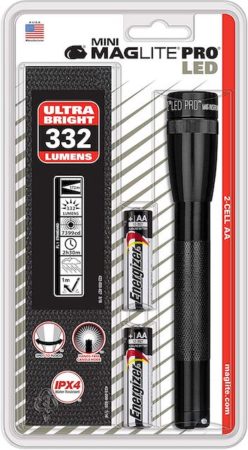 Living in an apartment will be such a fun experience and moving is much easier if you have a list of items you need. These are some of the main essentials needed when living in your own place for the first time. Good luck with moving!
You Might Also Want to Read:
10 Kitchen Essentials