Canon EOS 1300D Review | Gadgets 360
April 29, 2016
Canon's EOS 1200D was the talk of the town when it launched two years ago, and it continues to be quite popular with first-timers, mostly due to the company's aggressive marketing campaigns. Today, we'll be reviewing its successor, the EOS 1300D, which was launched recently in India for roughly the same price as the outgoing model.
The new EOS 1300D adds Wi-Fi and NFC capabilities, among other minor changes in order to make it more modern and enticing for first-time buyers. So, is it going to become the new go-to camera at the entry level? Let's find out.
Design and build
Canon hasn't strayed too far from its current formula, and the EOS 1300D looks virtually identical to its sibling. The body is built entirely of plastic with a matte texture which is good for grip and is somewhat resistant to scratches. There's rubber padding where your fingers and thumb would go, which makes it easy to shoot with one hand. Fit and finish are fairly good, although the quality of the plastics suggest that this device was made with a tight budget in mind.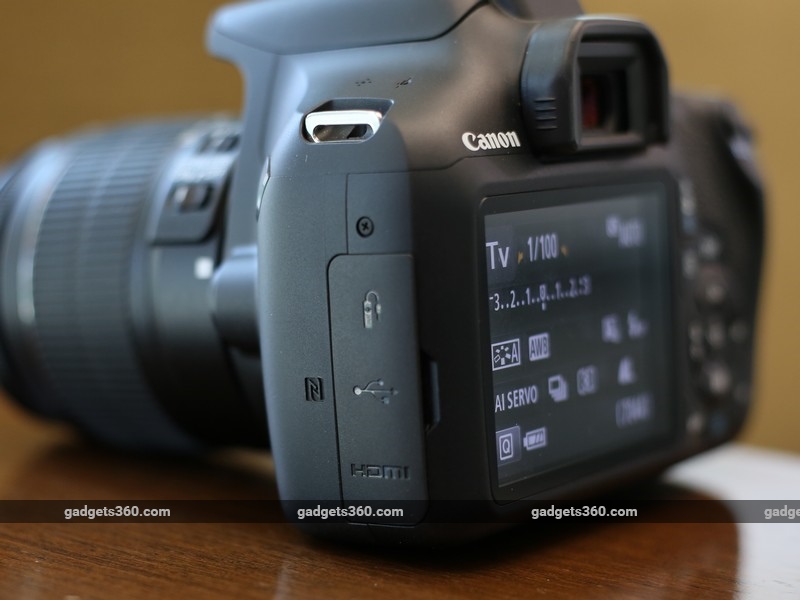 The body of the EOS 1300D is a bit lighter at 440g and a bit more compact than the EOS 1200D, which is only really noticeable when you compare them side by side. On the left, the 1300D has an input for a wired remote, a Mini-USB port, and an Mini-HDMI port. All the buttons are placed to the right of the LCD, and include shortcuts for ISO, drive mode, white balance, and autofocus. These also double up as navigation buttons for the menu system. There's a dedicated button just near the optical viewfinder for switching to live view. Canon has also added a Wi-Fi signal LED which flashes when the camera is connected to a smartphone.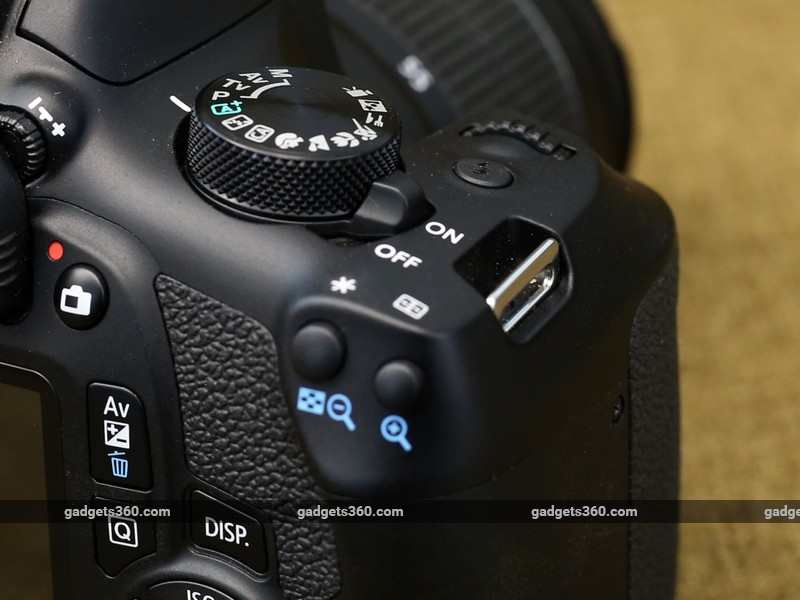 On the top, we have a microphone, a pop-up flash along with a standard hotshoe mount for an external flash, and the PASM mode dial. The dial has a rough texture on the side making it easy to switch modes even with wet or greasy fingers. There's a rotary dial just in front of the shutter release button for cycling between settings, pictures, etc. All the buttons are in comfortable positions, which makes it easy to change settings while shooting. The optical viewfinder gives you readings for exposure, ISO, shutter seed and aperture, all of which are legible in sunlight.
You get a 3-inch TFT display, the resolution of which has been nearly doubled to 920K dots as compared to the one on the EOS 1200D. Due to this, preview images look sharper so you can get a better sense of your final output. Sadly, we still don't get a swivelling or tilting screen in Canon's entry-level series. Sunlight legibility for the screen is strictly okay, because it does wash out under sunlight.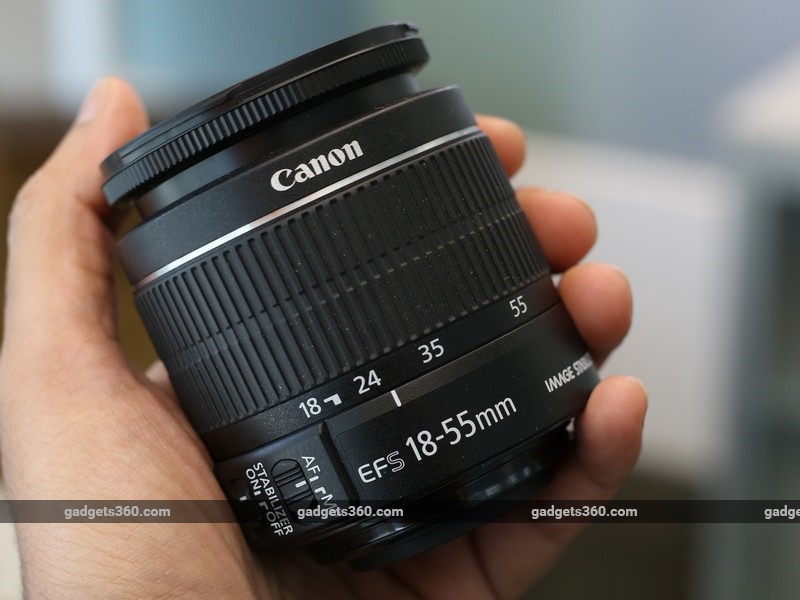 Canon ships the 1300D with a standard EF-S 18-55mm IS II kit lens. It features built-in image stabilisation which can be toggled on or off, and you can of course also switch between manual and auto focus. The aperture ranges from f/3.5 to f/5.6, going from the wide to the telephoto end. This lens doesn't retract as much as some of Nikon's DX lenses do, so with it fitted to the body, the camera will occupy a sizable footprint in your bag. In the camera box itself, you also get a shoulder strap, battery, data cable, external charger, and a 16GB Class 10 SD card.
Features
The core specifications of this camera haven't changed much compared to the 1200D. The new model still rocks an 18-megapixel APS-C CMOS sensor, has a native ISO range of 100-6400, and is capable of 3fps burst shooting. The image processor has been bumped up to Canon's Digic 4+. The EOS 1300D can shoot in JPEG, RAW and JPEG+RAW modes, and video recording maxes out at 1920x1080p at 30fps. The sensor has a total of nine autofocus points including one cross-type point in the centre.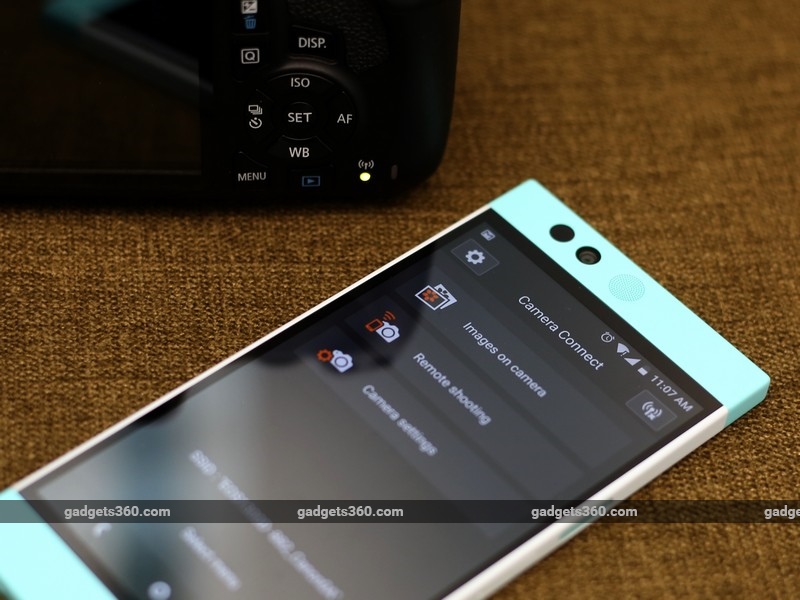 The biggest new addition however is Wi-Fi connectivity. Once you install the Canon Camera Connect app on your phone, pairing it via NFC is as easy as tapping your phone to the NFC logo on the camera. You can even do it the old fashioned way if your device lacks NFC. If you don't want to create an ad-hoc network, you can also choose to pair the camera with a standard home or office router.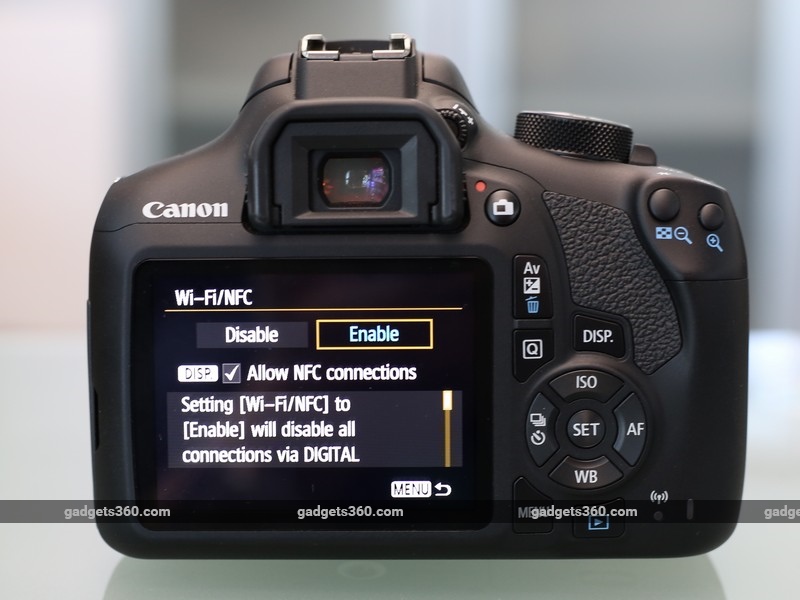 The app lets you see all the pictures you've shot and transfer ones you wish to share. Images copied to a phone are resized to 1920×1080, which makes them smaller and easier to share on social media. These copies are each roughly 1.7MB in size and the transfer speed is pretty quick over Wi-Fi Direct. The app also has a remote shooting feature which essentially turns your phone into a viewfinder. You can adjust most settings via the app, although switching to another shooting mode on the camera will break the connection.
Performance
In our ISO tests, the EOS 1300D held up well till ISO 800, with punchy colours and sharp details. At ISO 1600, you'll notice a slight dip in sharpness as some luminance noise starts creeping in. Going up to ISO 3200 and 6400 results in almost unusable pictures with way too much luminance noise, and detail level takes a big hit.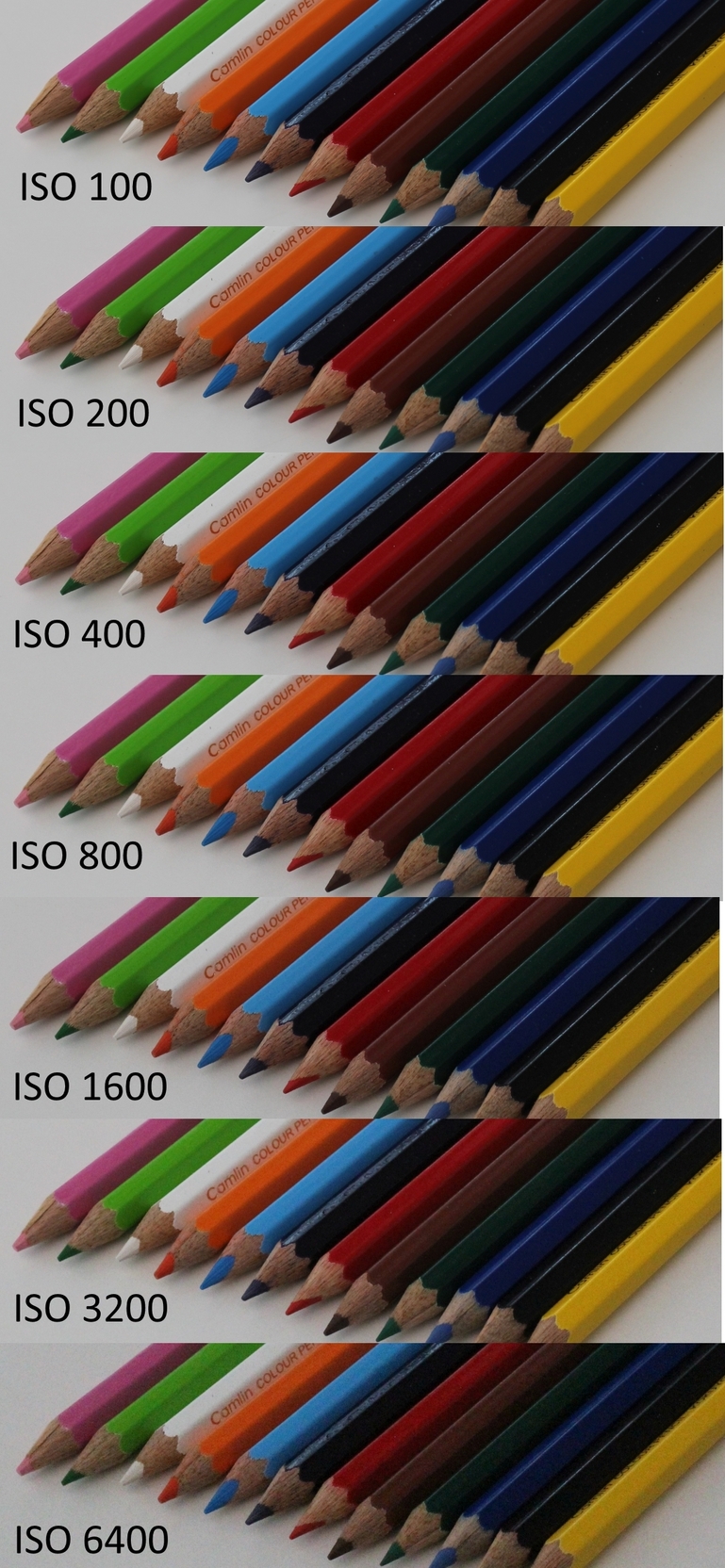 (Canon EOS 1300D sample images – tap to see full size)
The camera does a decent job capturing detailed images in daylight. Colour reproduction is good although the camera doesn't seem to have a very good dynamic range so photos aren't very vibrant. Focusing speed is good but it takes some effort to get a lock on the desired focus area. With only a single cross-type autofocus point, many of our close-up subjects lacked sharpness and depth. However, this can be attributed partly to the lens.
Canon EOS 1300D sample image – ISO 100, f/3.5, 1/1600 sec (tap to see full size)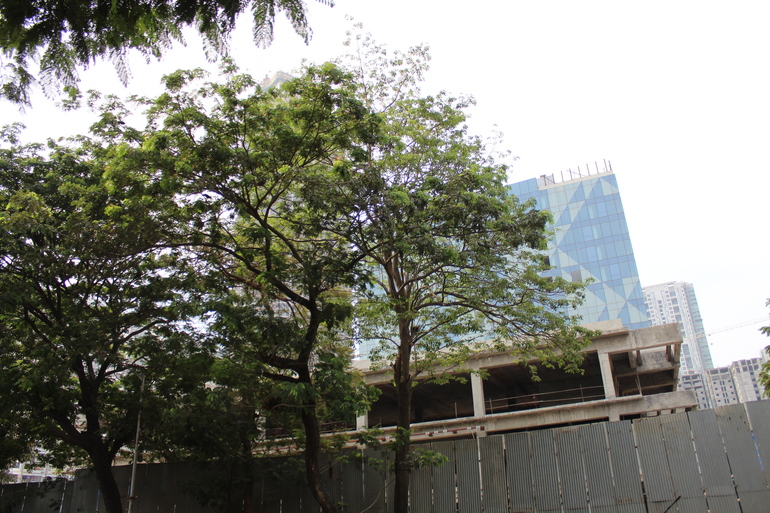 Canon EOS 1300D sample image – ISO 100, f/3.5, 1/500sec (tap to see full size)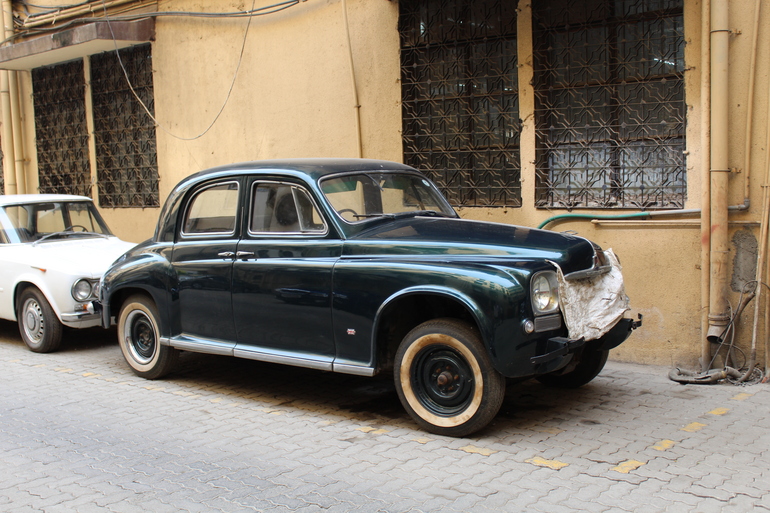 Canon EOS 1300D sample image – ISO 100, f/4, 1/80sec (tap to see full size)
When shooting objects against bright backgrounds, there's visible chromatic aberration along the edges of the leaves and buildings, which manifest as purple fringes. Landscape shots don't exhibit any noticeable barrel distortion but close-ups do at times. The camera does manage a decent level of depth of field at its widest aperture setting, which is useful when shooting portraits. Burst mode is pretty pointless on the 1300D as it's simply too slow to capture intended moments. With some luck, you could get the shot you want, but during our testing period, it was more of a miss than a hit.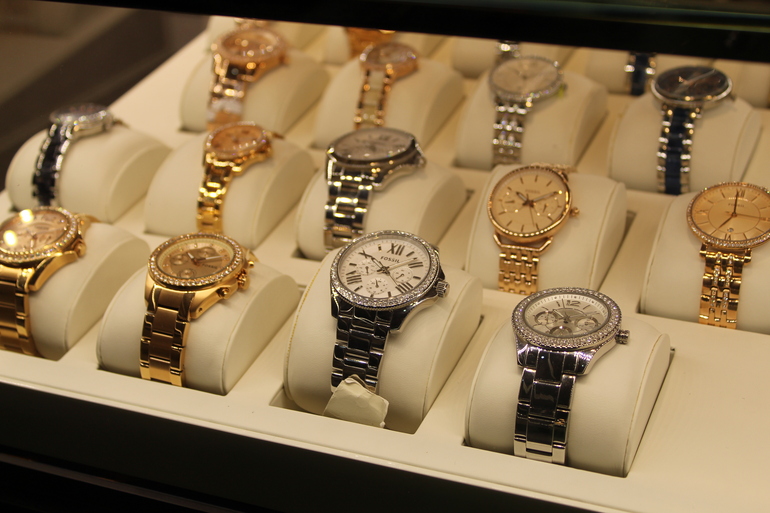 Canon EOS 1300D sample image – ISO 100, f/5, 1/60sec (tap to see full size)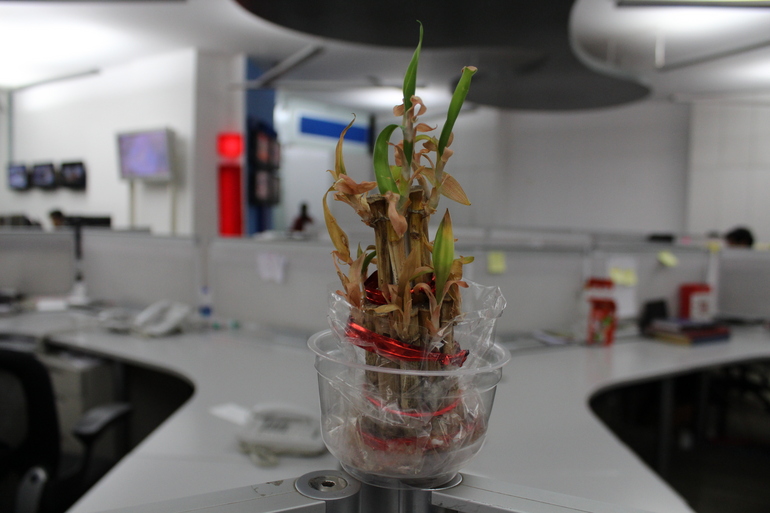 Canon EOS 1300D sample image – ISO 800, f/4.5, 1/100sec (tap to see full size)
Photos taken indoors and under artificial lighting are not bad, provided you limit the ISO to 1600. Anything more and you have a lot of noise. Colour reproduction is fairly good too. The EOS 1300D is capable of some good low-light imagery if you play around with settings in manual mode. You get other shooting modes such as Creative Auto, Portrait, Landscape, Close-up, Sports, Food and Night Portrait. While having such shooting modes is a nice addition, you're better off using one of the manual modes, otherwise why bother with a DSLR?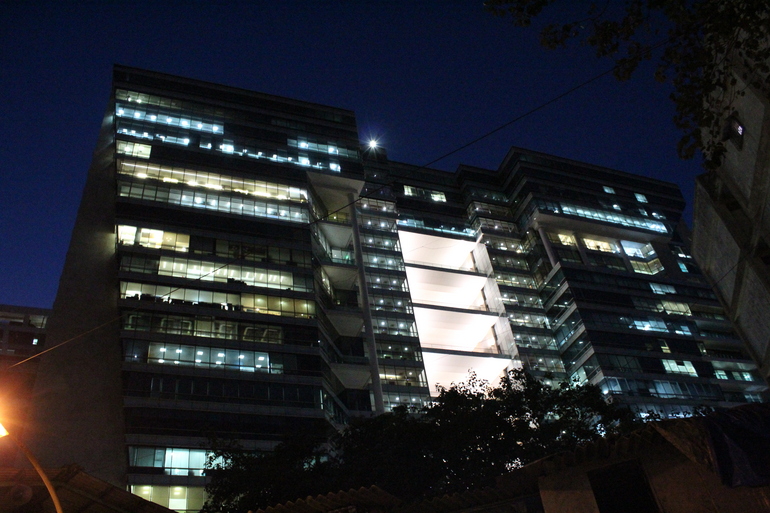 Canon EOS 1300D sample image – ISO 6400, f/4.5, 1/30sec (tap to see full size)
Canon EOS 1300D sample image – ISO 800, f/5.6, 1/3200sec (tap to see full size)
Night shots have a lot of chroma and luminance noise but this can be controlled by limiting the ISO to a lower value. In doing so, you'll have to be steady while shooting since you're dealing with a slower shutter speed and you really can't open the aperture by much. The flash is decently powerful and manages to light up nearby objects evenly.
The EOS 1300D can record video at up to 1080p at 30fps, which is a shame considering that its competition can go up to 60fps. Video quality is good for most lighting conditions as you have the ability to manually set the exposure. There isn't any stabilisation for video so you'll need a steady hand or a tripod. Also, it's best to switch to manual focus here as motor noise from the autofocus system is easily picked up when recording.
Since the camera uses the same battery as the EOS 1200D, we're looking at roughly 500 shots per charge, which is the rated capacity. In reality, this will be lower and if you're shooting a lot of video, you can expect the battery to drain a lot faster.
Verdict
The Canon EOS 1300D can be found online at roughly Rs. 26,000, which is not bad for an entry-level DSLR, except that the EOS 1200D with two lenses (18-55mm and 55-250mm) can also now be found at roughly the same price. The Nikon D3300, this camera's most obvious competition, is also slightly less expensive and has superior features in terms of design, image and video quality, and burst shooting.
After a wait of nearly two years, the EOS 1300D is only a slight upgrade over the EOS 1200D. As far as successors go, the most notable improvements are the higher resolution display and the addition of Wi-Fi. Apart from this, nothing much has changed, so EOS 1200D owners can breathe easy. As for the rest who are looking to buy their first professional photography tools, we would recommend the Nikon D3300 over the EOS 1300D for its versatility and very aggressive pricing.
Price: Rs. 29,995
Pros
Built-in Wi-Fi, NFC
Decent construction quality
High-resolution display
16GB card bundled
Cons
Burst mode not effective
Noisy images at ISO 1600 and beyond
Average all-round performance
A bit expensive compared to the competition
Ratings (Out of 5)
Build/ Design: 3.5
Image Quality: 3
Video quality: 3
Performance: 3
Value For money: 3
Overall: 3