Do Antioxidants Really Boost Glowing Skin?
October 25, 2022
Do Antioxidants Really Boost Glowing Skin?
Written by: Gerda Endemann, PhD
|
Published on: October 25, 2022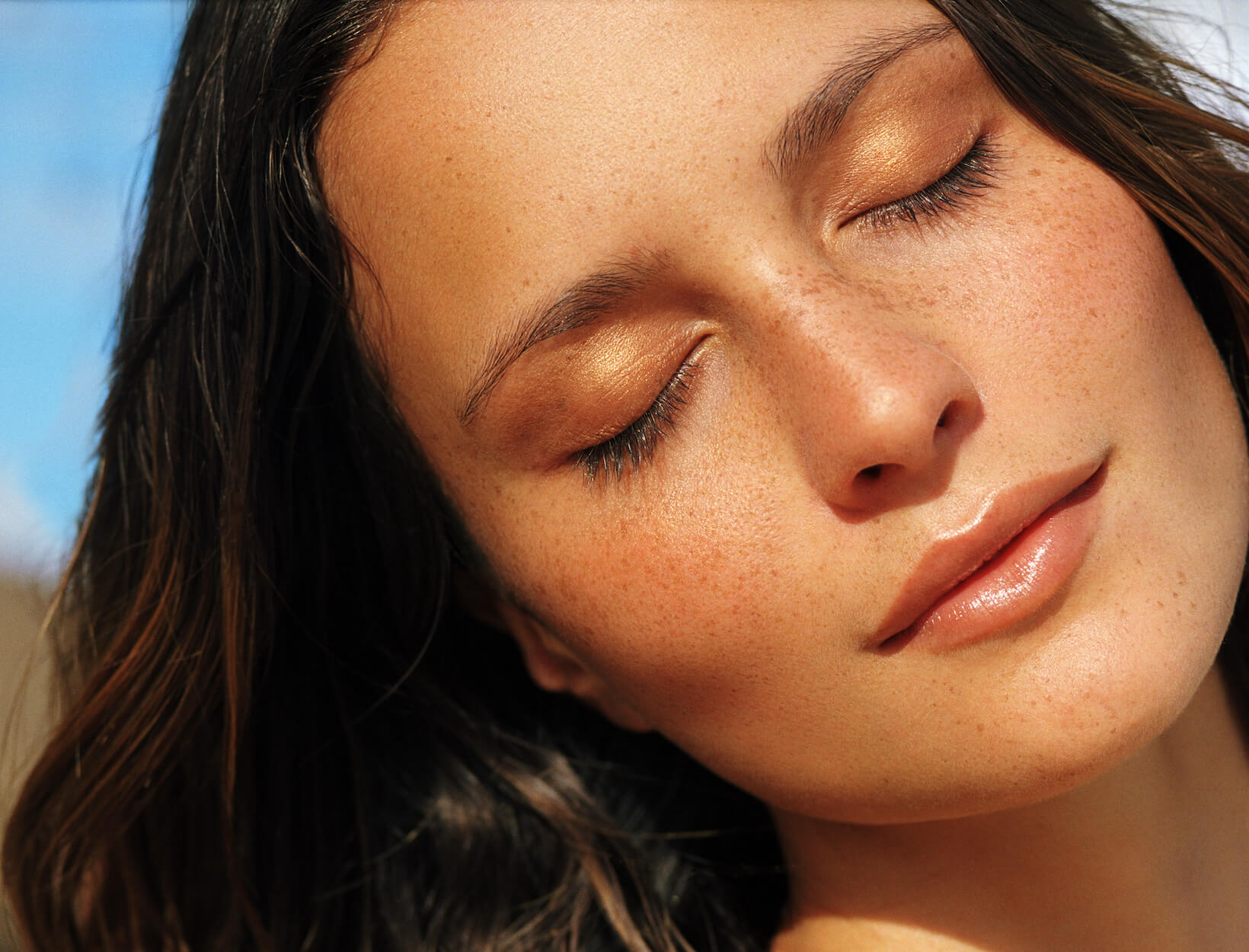 I really, really wish that I hadn't waited until I was in my 60s to start taking care of my skin. My punishment for loving the sun and neglecting skin care is thinning skin, brown spots, and wrinkles. Why do these things happen as we age, and how can you—with the benefit of my hindsight—better care for your skin?
Over the past few years, I've learned a lot from the smart people who develop products and write about beauty at goop. Antioxidants are always a common theme, so for this story, I looked deeply into the research on how antioxidants can best be used internally and externally to optimize the way skin looks as we age.
3 Effective Ways to Get Antioxidants for Skin
Powdered Skin Serum

True Botanicals

Vitamin C Booster

goop, $90

SHOP NOW

Citrusy Morning
Supplement

goop Beauty

GOOPGLOW Morning
Skin Superpowder

goop, $60/$55 with subscription

SHOP NOW

Nourishing Skin Balm

Furtuna Skin

Rinascita Delle Olive
Replenishing Balm

goop, $225

SHOP NOW
What Antioxidants Do in Your Skin: The Benefits
Things that damage skin cells (like ultraviolet light, air pollution, and environmental chemicals) all do so by triggering the generation of free radicals. Free radicals—in particular, those called reactive oxygen species—damage DNA and other molecules that function to keep skin healthy, smooth, and plump. ROS cause collagen to break down and reduce the formation of new collagen. Because collagen provides structure and firmness to skin, this loss can be devastating for skin's strength and appearance.
Antioxidants are what the body naturally uses to neutralize free radicals. In our bodies, this process generally works from the inside out, but applying antioxidants topically turns out to have benefits, too.
Boosting antioxidants from the inside (with foods and supplements) and the outside (with skin care) can support healthy skin in the face of multiple insults. Just remember: Antioxidants are not intended to be used as or to replace sunscreen.
The Best Antioxidants for Skin Care
You'll notice that antioxidants mostly come from plants. Each plant provides a unique collection of antioxidant activities, so antioxidant skin care nearly always lists an assortment of plant extracts on the label. Here are a few that have proven benefits.
Kakadu Plum
Fresh kakadu plums are uniquely rich sources of antioxidants including vitamin C, and recent research on the use of kakadu extract in skin care is exciting. In one trial, the extract increased elasticity and hydration of skin around the eyes. And in preliminary research, a cream containing kakadu extract resulted in boosted collagen levels. Look for the botanical name, Terminalia ferdinandiana in the ingredient list.
We use the extract quite a bit in our goop skin-care formulas; both this cleanser and this body oil take advantage of its free radical–scavenging properties. The cleanser is a remarkable combination of gentle and powerful, so it can be used daily by any skin type, even sensitive, but still deliver significant results.
goop Beauty

GOOPGLOW Afterglow Body Oil

goop, $48/$43 with subscription

SHOP NOW

goop Beauty

GOOPGLOW Cloudberry Exfoliating Jelly Cleanser

goop, $35/$25 with subscription

SHOP NOW
Citrus Peel Oils
Orange, lemon, and grapefruit peel oils contain powerful antioxidants—you may have heard of naringin or nobiletin— and other bioactive components. There's more of these free-radical-scavenging phenols in the peel than the flesh. Orange peel is used in traditional medicine for skin health, and ongoing research is backing this up.
Grown Alchemist's hand wash and cream include orange peel oil together with other wonderfully scented, healthful oils including rose hip and cedarwood.
Grown Alchemist

Hand Wash and Hand Cream Twin Set

goop, $70

SHOP NOW
Green Tea
Green tea extract helps protect skin from free radical damage and may be helpful for oily complexions. You can find it—along with C, E, and hyaluronic acid—in top dermatologist Macrene Alexiades' luxurious serum, as well as the new moisturizing skincare-plus-SPF 30 formula from True Botanicals.
Macrene Actives

High Performance
Face Serum

goop, $195

SHOP NOW

True Botanicals

Skin Barrier Sun
Shield SPF 30

goop, $65

SHOP NOW
Olive and Fruit Leaf
Olive oil and olive leaf extract are valued for their content of bioactive antioxidants including hydroxytyrosol, oleuropein, and luteolin. An all-organic Sicilian farm provides fruit and leaf extracts and oils for this gorgeous blue balm and incredible-smelling biphase face oil—with olive leaf extract in the water phase.
Furtuna Skin

Rinascita Delle Olive Replenishing Balm

goop, $225

SHOP NOW

Furtuna Skin

Due Alberi Biphase Moisturizing Oil

goop, $225

SHOP NOW
Rose Hip
Rose hip seed oil is prized for its antioxidant tocopherols, carotenoids, and phenolic acids. Tata Harper's Retinoic Oil is made with rose hip and other valuable fruit, seed, and leaf extracts.
Tata Harper

Retinoic Nutrient Face Oil

goop, $165

SHOP NOW
Isoflavones
Estrogen promotes hydrated, firm skin, and during perimenopause and menopause, skin gradually becomes thinner and dryer. Hormone replacement with estrogen is great for skin, but brings increased risk of blood clots and breast cancer. Is there a safe way to get estrogen's benefits for skin? Topical estrogen cream—by prescription—may improve skin thickness and reduce fine wrinkles. And plants make antioxidants called isoflavones that look and act a bit like estrogen. Although they aren't as powerful as estrogen, there's a little evidence that cream containing isoflavones may have some benefits for skin, including skin thickness.
Rosemary
Rosemary extract contains bioactive compounds—including flavonoids, terpenes, and polyphenols—that confer significant benefits for healthy skin. It's been widely used in folk medicine—including to support calm, smooth skin. You can find rosemary extract in the brilliant face serum from MAKANAI or the deeply nourishing body cream from Karité—and you can even soak in it, via The Nurse! bath from goop.
MAKANAI

Skin Jewel Oil Serum

goop, $50

SHOP NOW

Karité

Hydrating Body Cream

goop, $46

SHOP NOW

goop Beauty

Nurse! Under the
Weather Bath Soak

goop, $40

SHOP NOW
Vitamin E
Vitamin E is one of the original antioxidants used in skin-care products for its photoprotective and skin-barrier-stabilizing properties. The one-two antioxidant punch from The Organic Pharmacy is loaded with free radical–quenching ingredients that leave skin looking luminous. In addition to vitamin C (ascorbate) and vitamin E (tocopherol), there are oils extracted from grapefruit, lemon, and orange peels, along with flower, seed, leaf, and root extracts. Beauty Thinkers' oil contains tocopherol along with olive fruit extract and sunflower seed oil.
The Organic Pharmacy

Antioxidant Duo

goop, $190

SHOP NOW

Beauty Thinkers

Antioxidant Boost Facial Oil

goop, $78

SHOP NOW
Niacinamide
Niacinamide is an incredible ingredient in skin-care products with its antioxidant activities and other proven ways of supporting how skin looks after exposure to light. Used in a moisturizer, niacinamide targets wrinkles, hyperpigmentation spots, and red blotchiness. Follain's brightening serum is made with niacinamide, as is Dr. Barbara Sturm's The Better B serum.
Follain

Brightening Serum

goop, $38

SHOP NOW

Dr. Barbara Sturm

the Better B Niacinamide Serum

goop, $145

SHOP NOW
Vitamin C
This vitamin is one of the best-studied antioxidants for skin-care products that target wrinkles and dark spots. You'll see it in ingredient lists as ascorbic acid, ascorbate, or ascorbyl. Dark spots are formed when sunlight promotes the formation of the skin pigment, melanin, and studies have concluded that vitamin C is useful in preventing signs of photoaging. There's also evidence that it supports healthy collagen, reduces free radical damage, and targets wrinkles.
I have a hard time passing up a pink cream, especially one as loaded with skin-boosting extracts as KORA Organics' pretty, pink Vitamin C Eye Cream. Kangaroo paw flower, kakadu plum, cloudberry, red ginseng, and vitamin E are just a few of the carefully curated ingredients formulated to fight free radicals and moisturize.

KORA Organics

Berry Bright Vitamin C Eye Cream

goop, $56

SHOP NOW

Unsurprisingly, vitamin C is widely used in skin care; unfortunately, it doesn't last forever once it's mixed into a formula. True Botanicals solves this problem by selling its vitamin C as a powder, which you add to water or serum—it's a great way to be sure that you're getting a fully active antioxidant.

True Botanicals

Vitamin C Booster

goop, $90

SHOP NOW

And I especially love Alpyn Beauty's light-pink, fluffy, and deeply moisturizing face creams. This one contains three forms of vitamin C together with grape-seed oil, vitamin E, and numerous flower and plant extracts, plus my favorite skin-hydrating and firming non-antioxidant ingredient, hyaluronate.

Alpyn Beauty

Triple-C Brightening
Bounce Cream

goop, $49

SHOP NOW
Ergothioneine
Ergothioneine is an amino acid derivative and an unusually stable antioxidant buffer that may help protect skin cells. It's found in mushrooms, beans, and other foods, and our bodies avidly take it up and hold on to it, meaning it's important.

Ergothioneine is used as a unique backup ingredient in GOOPGLOW Glow Lotion, which combines richly moisturizing ingredients like squalane and jojoba that make your skin feel soft and smooth with precious extracts from spirulina, kakadu plum, colubrina bark, and vetiver, plus antioxidant extracts of lime, mandarin, orange peel, and lemon peel for their free radical–scavenging and skin-rejuvenating activities.

goop Beauty

GOOPGLOW Glow Lotion

goop, $58/$52 with subscription

SHOP NOW
Sunscreen: Even More Important than Antioxidants for Keeping Skin Youthful and Healthy

Antioxidants are not intended to be used as or to replace sunscreen. These days I'm using Supergoop's water-resistant Play 100% Mineral Lotion. I like to do my laps in the pool when it's sunny and warm, which calls for strong protection. Ingredients like green algae extract (Haematococcus pluvialis) and tucuma oil (Astrocaryum vulgare) elevate Play to the luxury level.

Supergoop

Play 100% Mineral
Lotion SPF 30 with Green Algae

goop, $36

SHOP NOW
Antioxidant-Rich Supplements and Foods That Promote Glowing Skin*
There's no one perfect food source of antioxidants. A plant-heavy whole foods diet plus a multivitamin can deliver a wide spectrum of bioactive compounds that work from the inside to support healthy and beautiful skin.
Vitamin C
Supplementing with C can help boost the skin's ability to fight free radicals. This antioxidant scavenges ROS in the water-based interior of cells and is essential for protecting DNA and proteins, including collagen. It also happens to be essential for making collagen.
Vitamin E
Try a combination of vitamins C and E for even more protection from free radical damage—and to promote even pigmentation and luminosity. Vitamin E is found in the fatty parts of cells, the membranes, where it protects polyunsaturated fats from free radicals that can destroy membranes and kill cells.
Lutein and Zeaxanthin
These carotenoids are typically used in combination, either in a pill or applied to the skin. Either delivery route is helpful, but for optimally increasing skin hydration and elasticity, one study concluded that doing both is best: Take a supplement and include these antioxidants in a skin-care regimen.
Lycopene
Supplements can boost the level of this antioxidant in the skin, where it helps support the skin's natural resilience to ordinary sun exposure. From clinical research: Lycopene supplements help prevent free radicals from damaging skin cells and their DNA.
Selenium
Selenium is a trace mineral that's crucial for healthy keratinocyte skin cells. It's incorporated into the enzyme glutathione peroxidase, which works with the major antioxidant that the body makes, glutathione.
Zinc
Skin contains a lot of zinc for good reason. Its roles in the skin including supporting DNA repair, wound healing, and the response to oxidative stress. And it's part of an antioxidant enzyme, superoxide dismutase.
Grape-Seed Extract
Numerous polyphenol antioxidants of every color are found in plants. One type is the red proanthocyanidins in grape-seed extract—documented to scavenge free radicals, support cellular health, and protect against oxidative stress throughout the body.
Resveratrol
Resveratrol is a powerful antioxidant—found in grapes and other fruits—with plenty of research-backed benefits for metabolic and circulatory health and interesting preliminary research on skin benefits. I like the products from Source Naturals, where I worked for years and got to know all about the in-house quality-control testing program.*
Silymarin
Silymarin is extracted from milk thistle, a plant revered for supporting liver health. It boosts the master antioxidant, glutathione. I like the Milk Thistle Seed Extract with silymarin from Planetary Herbals. This company's products are developed by herbalists based on Western, Ayurvedic, and traditional Chinese herbalism.* The general manager, Roy Upton, has provided answers to our questions about herbs to support gynecological health.
Food Sources
If you eat a variety of plant foods, you'll be getting a wide spectrum of antioxidants. Don't worry too much about which ones to eat: Potatoes count, too.
But if you really want to know: Red fruits and veggies like pink grapefruit and tomatoes contain lycopene. Greens like spinach and parsley are sources of lutein and zeaxanthin. Leafy greens and yellow and orange fruits and vegetables contain beta-carotene. Citrus and strawberries and high in vitamin C.
Vitamin E is found in nuts, seeds, and oils, where it protects fats from oxygen and heat to prevent rancidity. (Store them in a cool and dark place to protect the vitamin E and prevent rancidity.)
FAVORITE ANTIOXIDANT SUPPLEMENTS
An extraordinary multi, this is made with powerful ingredients to help support the skin's resilience in the face of environmental stressors and free radicals that contribute to skin aging. The Everyday Glow Multivitamin contains research-backed amounts of antioxidants that specifically target the skin: lycopene—along with other tomato phytochemicals in a non-GMO tomato extract—and beta-carotene. Lycopene promotes healthy skin at a cellular level by detoxifying ROS. This multivitamin also contains high-potency vitamins C (targeting the watery insides of cells) and E (targeting fatty cell membranes). And the antioxidant minerals selenium and zinc are included in well-absorbed bioactive forms.*

goop Beauty

GOOPGLOW Everyday Glow Multivitamin

goop, $60/$55 with subscription

SHOP NOW

This lovely orange-and-lemon-verbena-flavored drink will easily become a favorite part of your morning routine. With research-backed amounts of lutein, zeaxanthin, vitamin C, and vitamin E (as natural tocopherols) and a concentrated grape-seed extract, GOOPGLOW Morning Skin Superpowder is formulated to support the skin's photoprotective functions and safeguard the skin from damaging free radicals from whatever environmental stressors you may encounter.*

goop Beauty

GOOPGLOW Morning Skin Superpowder

goop, $60/$55 with subscription

SHOP NOW
Related Reading
Why Antioxidants Are Great for Skin

Why GP Drinks Her Antioxidants

Can CoQ10 Improve Your Skin?
Décolletage Care: The Complete Guide

The 2022 Guide to Mineral Sunscreen (for Every Skin Tone)
*These statements have not been evaluated by the Food and Drug Administration. These products are not intended to diagnose, treat, cure, or prevent any disease.