Meet The P-Pop Artists That Will Raise The Filipino Flag At The "POPstival 2022"
October 3, 2022
G22, VXON, CALISTA, Lady Pipay, Press Hit Play, Alamat, BINI, and SB19 Felip are ready to raise the Filipino flag up high!
K-pop and P-pop will come together for one unforgettable night at the POPstival 2022. Alongside Park Bom, HYOLYN, VIVIZ, LOONA, Brave Girls, and Be'O, Filipino music scene representatives G22, VXON, CALISTA, Lady Pipay, Press Hit Play, Alamat, BINI, and SB19 Felip will perform on stage to flaunt spectacular performances.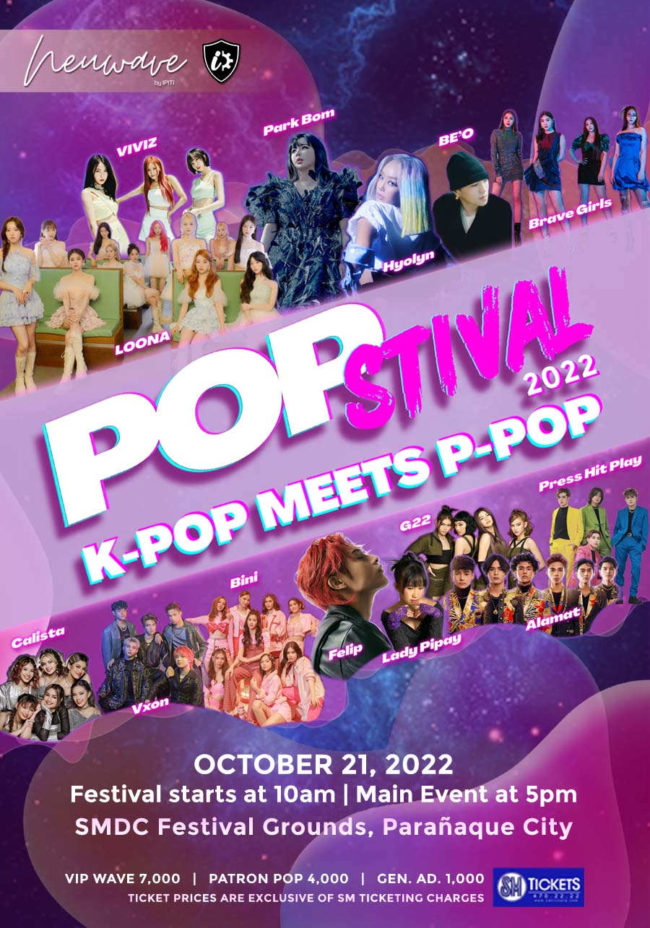 And to fire up the anticipation for the upcoming event, let's dive into the Filipino artists that will lead the future of P-Pop.
---
G22
Consisting of members AJ, Alfea, Bianca, and Jaz, G22 is a girl group signed to Cornerstone Entertainment. The quartet released their debut single "BANG!" on February 25, 2022, followed by the release of their single "Babalik" on May 20, 2022. On September 23, 2022, the group released its pre-single "Defy."
Although just debuting this year, G22 has proved they are the female alphas through amazing performances in the Tugatog and PPOPCON.
---
VXON
Dubbed the "Monster Rookies of P-Pop," VXON debuted with the single "The Beast" on January 7, 2022 under Cornerstone Entertainment. C13, Sam, Patrick, Vince, and Franz then released "P.S" on April 1, 2022, and also sang the official soundtrack for Top Class: Rise to P-pop Stardom, "Reach The Top."
VXON has recently had the local music scene on fire with the single "Fiyaah", released on September 2022.
---
CALISTA
Calista is a six-member girl group selected from hundreds of equally talented girls trained by Merlion Events Production Inc. and Tyronne Escalante Artist Management. Comprised of Olive, Laiza, Anne, Denise, Elle, and Dain, the sextet has become the next huge international pop (I-Pop) girl group since their debut hit "Race Car." With their powerful vocals and dynamic choreography, the girl group has been proving the strength and beauty of women everywhere.
Neuwave Assembles Spectacular K-Pop Party At "POPstival2022"
---
Lady Pipay
Lady Pipay is a YouTube sensation best known for her dance cover videos, vlogs, and trending challenges. Currently, her YouTube channel has over 100 thousand subscribers.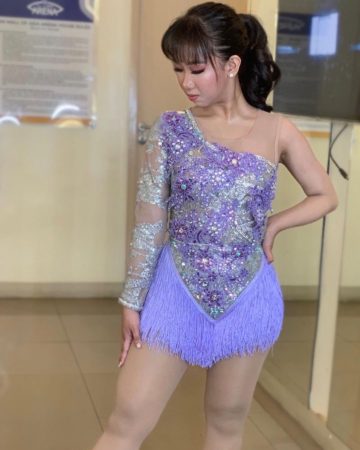 ---
Press Hit Play
PHP, also known as Press Hit Play, is a four-member boy group that debuted on August 2021 with the single "WIN." The group's name is a metaphor for members CHRLS, JP, Sev, and Yuuki's commitment to musical harmony and cultural diversity.
Press Hit Play has recently released its newest single, "Sambit," which tells the story of their hard work and journey as P-Pop artists.
---
Alamat
Alamat is a six-member boy group under Viva Artist Agency and Ninuno Media. Taneo, Mo, Jao, Tomas, R-Ji, and Alas released their debut single, "kbye," on February 14, 2021. The group maintains its uniqueness as they sing in seven different Philippine languages—Tagalog, Ilocano, Kapampangan, Cebuano, Hiligaynon, Bicolano, and Waray-Waray.
Alamat has made history as the second P-Pop group to make it on a Billboard chart, ranking No.2 on the Billboard Next Big Sound Charts. They have recently released the digital single "ILY ILY" on August 2022, featuring Filipina singer Lyca Gairanod.
---
BINI
BINI is an eight-member girl group that performs under the Star Magic label on ABS-CBN. Aiah, Colet, Maloi, Gwen, Stacey, Mikha, Jhoanna, and Sheena met at the Star Hunt Academy and joined forces on November 2020 for the pre-debut song "Da Coconut Nut." On June 11, 2021, the girl group released its first single, "Born to Win."
BINI has featured their impeccable presence in the music scene by bagging the Outstanding Female Group of the Year at the Diamond Excellence Awards 2022. Recently, BINI released its sophomore album Feel Good. The album consists of seven tracks, headlined by "Strings" and the pre-release single "I Feel Good."
---
SB19 Felip
Felip, also known as Ken, is a member of the groundbreaking P-Pop boy group SB19 under ShowBT Philippines. He released "Palayo" on September 18, 2021, which is his first single as a solo artist.
On May 28, 2022, Felip returned with the single "Bulan," a laid-back R&B and sultry, sensual Vispop number. "Bulan" has a more experimental sound, evocative of hip-hop tracks, and combined elements of rock and Filipino folk music. Felip has also debuted the track on the live series by Grammy Awards, Global Spin. The show honors global music, international artists, and world-class music. His participation made history as the first P-Pop artist featured on the Grammy Awards' live Global Spin series.
Catch G22, VXON, CALISTA, Lady Pipay, Press Hit Play, Alamat, BINI, and SB19 Felip at the POPstival 2022 happening on October 21, 2022, at the SMDC Festival Grounds. Brought to fans by Neuwave Events & Productions, the P-Pop artists will be joined by Kpop acts Park Bom, HYOLYN, VIVIZ, LOONA, Brave Girls, and Be'O.
---
Source: Neuwave