Ma-eum is having a hard time dealing with Dae-ryuk's mother, a malicious post alleging Dae-ryuk molested a woman and supporting her artist with his first artist's block in Today's Webtoon episode 14.
In Today's Webtoon Episode 14, Dae-ryuk's mother visits NEON, hoping to get his address, with Ma-eum recently learning about Dae-ryuk's past she did not give his address. However, she ends up following Ma-eum to Dae-ryuk's place and he panics at the sight of her.
Meanwhile, someone uploads a malicious post about Dae-ryuk, saying he molested a woman. Now Ma-eum has to deal with Dae-ryuk's mother and find evidence to prove the post wrong in order to help Dae-ryuk with his artist's block.
nezryn watches Today's Webtoon on Viu!

Episode Recaps: 01 & 02 | 03 | 04 | 05 | 06 | Mid-Series | 09 | 10 | 11 | 12 | 13 |
K-Drama Filming Location: The Place Where NEON Webtoon Had Its Annual Party In "Today's Webtoon"

K-Travel: "Today's Webtoon" Shows Kim Sejeong Jogging In This Popularly Featured In K-Dramas' Park
---
Today's Webtoon Episode 14 Highlights
"A mother is here to see her son."
As Dae-ryuk tries to overcome his trauma, his mother, Kang Kyung-ja, suddenly appears in the NEON Webtoon service department's office.
She tries to get Dae-ryuk's address; however, as Ma-eum recently found out about Dae-ryuk's trauma, she refuses to do so.
As a result, it did not end up very well, as Dae-ryuk's mother got mad and raised her voice toward Ma-eum.
Meanwhile, while working on his webtoon Weapon Feeb, Dae-ryuk suddenly experiences a block that affects his ability to continue working on his story.
As his producer, Ma-eum continues to help him, she went to talk to artist Baek Eo-jin. However, she noticed something was wrong with the artist as he kept on massaging his hand.
Ma-eum, the keen observer, immediately asks if the artist is alright, but the artist obviously just shrugs it off to make her not worry.
Ma-eum found another way to resolve his issue. Ma-eum brought Im Dong-hee to him, who wanted to work for him as an assistant.
Right off the bat, Dong-hee says to Ma-eum that Dae-ryuk's artist's block might be caused by a psychological issue.
Kang Kyung-ja, on the other hand, finds Dae-ryuk, but her son immediately rejects her. Dae-ryuk's trauma response leads him to push Kyung-ja hard, making his situation even worse.
Ma-eum thought that if Dae-ryuk met his mother, this could help him with his artist's block. After persuading him, he agrees to meet his mother as long as Ma-eum is beside him. However, the mother-son meeting did not end very well.
---
"All we have to do is fix what is not true!"
Amid the mother-and-son dilemma, a malicious post about Dae-ryuk suddenly emerges, alleging that he molested a woman. This makes Ma-eum think of ways to resolve these.
As a result, the new issue makes Weapon Feeb flop and receive low ratings.
Interestingly, Ma-eum hilariously finds out that the Webtoon Witch is none other than her young sister Nu-ri. Thus, she's put in a tough spot resolving Dae-ryuk's issue.
Nu-ri decides to help her on Webtoon Witch's YouTube Channel by making a live stream to help Ma-eum find the videos and pictures of the incident.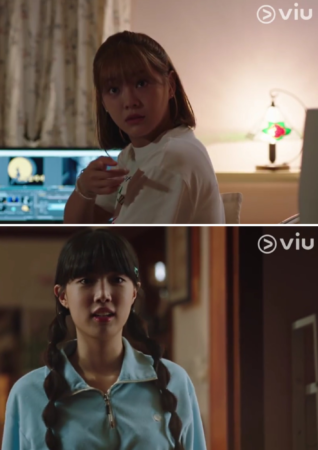 Ma-eum pulled an all-nighter together with Jun-yeong, Ji-hyung, and Man-chul in hopes of finding a video that would prove Dae-ryuk's innocence. Finally, someone shares a video of the assault to prove Dae-ryuk's innocence and make the team celebrate.
Also, the culprit of the malicious post decided to speak up, revealing that he was only tasked with making a post. It turns out Director Heo demanded he does so.
Consequently, the situation favors the Webtoon Team as the CEO of NEON, Yoon Tae-hee, involves the NEON Legal Team, which shakes Director Heo.
---
"He called me the Almighty. However, if there is anyone who can be your Almighty, that person is probably your parent. Because a child's world is created by their parents."
After the failed mother-son confrontation, Dae-ryuk's mother puts effort into making amends. She prepares food for him in the hopes that he'll eat well.
Since he refuses to see her, she passes the lunchboxes to Dong-hee instead. However, Dae-ryuk saw everything from his window and threw the food out the moment he found out it was from his mother.
Ma-eum came right on time and immediately talked to Dae-ryuk, saying that his mother has Alzheimer's disease. Ma-eum found out about this when she received a call saying that Dae-ryuk's mother got into an accident. That's when his mother told Ma-eum everything.
Ma-eum tells him what happened when a fire broke inside Dae-ryuk's home when he was a kid. The incident, which he caused while he was playing, led his mother to decide to chain him.
The trauma from the fire incident also caused him to forget about it, but his mother started blaming him for not taking care of him at all.
Consequently, once Dae-ryuk learns of this, his perception of his mother changes. He and Ma-eum immediately rushed to the bus terminal, where his mother was about to leave the city for good.
Except, it turns out that she hasn't actually left yet, and thus proceeds to a heart-warming reunion of a yearning mother and son.
Dae-ryuk asked his mother right away if she was going to abandon him again, and she cried as he pleaded with her not to run away again and get treatment for his illness instead.
Subsequently, her mother was about to touch him, but he flinches. He then reaches out to hold his mother's scarred hand, overcoming his aversion to touch, and she gently cradles his face in turn.
---
Today's Webtoon Episode 14 Musings
Today's Webtoon Episode 14 ends with a mother-and-son reconciliation, this week's recent episode highlights the prolonged childhood trauma of Dae-ryuk and how he managed to face it as he tries to reconcile with his mother again.
Dae-ryuk is so pure and in this episode, it is somehow disappointing how his storyline went. Healing from childhood trauma is a process and trauma doesn't simply disappear instantly.
Honestly, his mother's Alzheimer's is not an excuse for her to suddenly show up and retraumatize Dae-ryuk all over again. Hopefully, in the next remaining episodes, we get to see Dae-ryuk being treated professionally and healing in a healthier way.
Also, let's appreciate Kim Do Hoon's realistic portrayal of Shin Dae-ryuk, we can see how his acting prowess grows with every episode.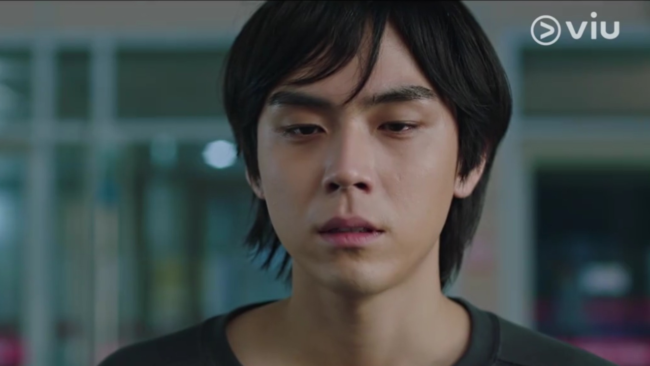 Furthermore, it looks like luck is finally on the NEON Webtoon Team's side as Director Heo's ill intentions are slowly coming to light.
Obviously, he is not looking for the benefit of NEON but for Youngtoon. He also has a special relationship with the CEO of Youngtoon, but the CEO of NEON has also noticed Director Heo's adamant behavior towards the Webtoon team is suspicious.
From the teaser, it looks like Jun-yeong has finally stepped up to Director Heo, saying that the NEON Webtoon Team is not giving up.
The battle has begun between the NEON Webtoon Team and Director Heo, in hopes that he'll be exposed for his hidden agendas.
We are surely going to miss the NEON Webtoon Team and Ma-eum's crazy family who gave us laughter as we are now entering the final week. Guess we'll have to wait and see on the last two episodes of Today's Webtoon.
Join On Ma-eum's last crazy but fulfilling adventure on Today's Webtoon every Friday – Saturday, starting at 10:30 pm at Viu!
---
Photos and Video: Screencaps from Viu | SBS Drama